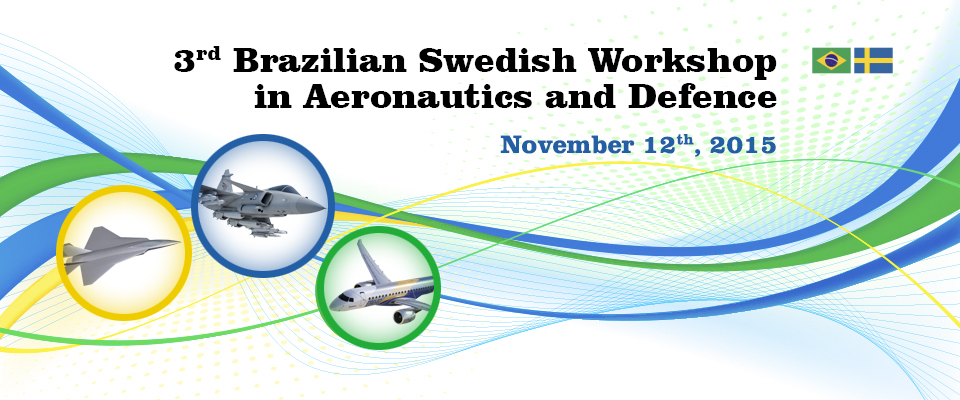 The 3rd Brazilian Swedish Workshop in Aeronautics and Defence will be held on November 12, 2015 at the Technological Park of São José dos Campos. The workshop is organized by the Swedish-Brazilian Research and Innovation Centre (CISB) and the Aeronautics Institute of Technology (ITA), with the participation of Swedish and Brazilian government, researchers and industries.
Following the success of the second edition, this third one aims at promoting opportunities for innovation and strengthening the participation of industry. The Workshop will bring an overview of the strategic discussions at the Aeronautics Bilateral Coordination Committee and introduce new programs with focus on innovation from both countries. The current status of bilateral research projects and results as well will be presented as motivation and example of the potential of Brazilian Swedish collaboration in Aeronautics and Defence. Hopefully this opportunity creates conditions for engagement and commitment of more actors in the cooperation under construction.

Program
08.30 - 09.00
---
09.00 - 09.10
09.10 - 09.40
Saab in Brazil - past, present and future

Pontus de Laval, Chief Technology Officer, Saab AB
09.40 - 10.10
CISB Aeronautics Committee: Background and plans

Mats Olofsson, Chairman Aeronautics Commitee
10.10 - 10:25
Bilateral agreements signature
10.25 - 11.05
11.05 - 11.45
Aeronautics Project portfolio review

Fellipe Sabat, Project Portfolio & Partnerships Coordinator, CISB
11.45 - 12.00
FADEMO - Research Collaboration for Future Capabilities

Petter Krus, Linkoping University
12.00 - 12.30
Brazilian Guest Researchers: Sweden as an inspiration for innovation

PhD Pablo Viana, Secretary of S&T&I in the state of Alagoas;
PhD Renato Machado, Director of Space Science Laboratory, UFSM
12.30 - 13.00
---
13.00 - 14.30
---
14.30 - 14.50
FAPESP and its programs to foster Innovation

Cylon Gonçalves da Silva, Member of the Adjunct Coordination of Special Programs
14.50 - 15.10
NFFP: Presentation of the program and perspectives for cooperation with Brazil

Lars Sjostrom, Saab representative in INNOVAIR
15.10 - 15.40
Wallenberg Autonomous Systems Program - WASP
Gunnar Holmberg, Saab WASP coordinator
15.20 - 15.40
FAPEMIG and its programs
Paulo Sérgio Lacerda Beirão, Director of S&T&I
15.40 - 16.00
Management of innovation and collaboration – A key for success?

Nicolette Lakemond, Linkoping University
16.00 - 16.20
Technological Park of São José dos Campos
Marco Antonio Raupp, General Director
16.20 - 18.00
Special session
Presentation from Swedish institutions
Presentation from Brazilian institutions
18.00 - 19.30
After Session Networking
---
Organized by:
Sponsored by:
Supporters:
Hotel suggestion:
Novotel São José dos Campos Hotel - website
More information:
CISB: +55 11 3500-5096 / contact@cisb.org.br - Juliana or Fellipe
ITA: +55 12 3947-6861 / ipp@ita.br - Vanessa 




Venue:
Technological Park of São Jose dos Campos
Avenida Doutor Altino Bondensan, 500 - Distrito de Eugênio de Melo, São José dos Campos