ANPEI Conference of Innovation 2018 brought more than 900 participants together in Gramado - RS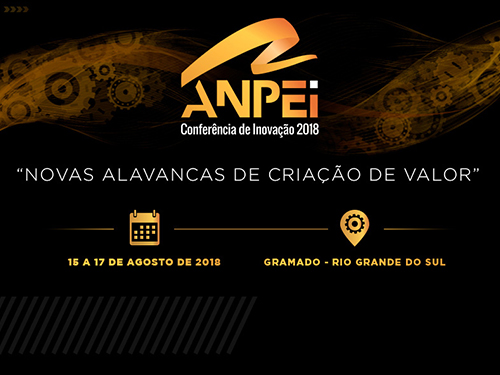 Holding 35 round-tables, 2 workshops, 106 cases received and 16 selected ones, 26 sponsors, 54 institutional supporters and 900 participants from 300 different companies, the ANPEI Conference of Innovation 2018 discussed the New Levers for Value Creation on August 15-16 at ExpoGramado in Rio Grande do Sul.
During the Conference it was addressed the development and strengthening of the innovation ecosystem in the face of the socioeconomics changes that happened in the last years based on four perspectives: technologic, client, organisation and ecosystem one.
According to the Technical Committee of the event – composed by ANPEI' members, experts from National Innovation System and big companies' representatives, scientific institution, consultancy and government bodies – there are many challenges and opportunities at the new ways of value creation.
"It is expected a huge transformation in the professional education and profile, in the entrepreneurship ecosystem and companies environment due to the new technologies. New knowledge and skills are going to be developed in a short period of time as well as the companies' capability to understand, track and adapt to these changes. Furthermore, the 'costumer's voice' will be stronger than ever", explained the ANPEI Conference's Technical Committee.
The first day was marked by the lectures and discussions on the challenges and opportunities for the innovation ecosystem development in a universe of accelerated technological changes.
The second day commented on an overview to leverage the value creation through the organization and ecosystem perspectives. By the morning, the main discussed theme was compliance as innovative companies' strategy of differential and survival. In the afternoon, there was a round-table about the ecosystem perspectives, carried out by Leonardo Garnica, Innovation Manage at Natura and with the participation of Gabriel Gorescu, Research and Innovation Director at Solvay Group in Latin America, Sandro Valeri, the Head of Innovation Strategy at Embraer and Jorge Pacheco, Director at State.
The next ANPEI Conference of Innovation already has a date and it will be hold on April 25-26, 2019.