Moving people and connecting destinations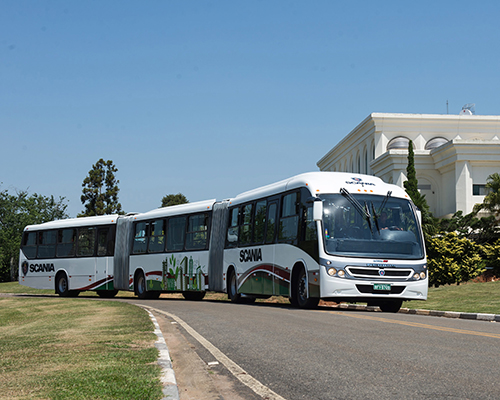 Innovation and cutting-edge technology combined with market experience and knowledge of the transport system are Scania's trademarks in urban mobility solutions.
In Brazil's largest terminal, the huge Tietê bus station in São Paulo, around 90,000 people circulate daily in search of a new destination. Meanwhile, in the city's streets, 35% of the population use the bus as their main means of transport. This means that Scania's business goes way beyond the product. It is urban mobility that Scania delivers to clients and society. "It is about making people's lives better and more sustainable", says Henrik Alfredsson, Vice President of Research & Development at Scania Latin America.
Just like in the truck market, in the transportation of people it is also essential to know the needs of the client, which in this case is the city. "Major urban centers seek an alternative to make mobility viable. In this sense, in Latin America we have a highlight for the BRT systems, which are the most developed in the world, "notes Henrik.
"Combined with the quality of our products, we can also highlight the offer of alternative fuels and the capacity to adapt them to the needs of our clients."
According to Henrik, besides the larger buses that Scania places on BRT corridors, the company is focusing on the transition from diesel to gas, like in Colombia, and the next step is the introduction of electric, hybrid or complete vehicles. "In 2011, we were pioneers with ethanol-powered buses. Today we are already in the era of technology that allows buses to be powered by batteries and wireless charging. In Brazil, the latest sensation was the first biomethane/GNV powered bus."
Pioneerism and innovation have always been part of Scania's bus history – since the very first hydraulic steering, pneumatic brakes and synchronized gearbox, electronic engines, responsible for a considerable reduction in the emission of pollutants. In 1999, it was the turn of the first low-floor urban bus on the market, in 2011 it was the ethanol engine, and Scania never stopped innovating.
"Facing the challenges of the present that will impact the future is part of Scania's trajectory", says Henrik. "Now, for example, intelligent cities are already a reality, where technology combined with knowledge of the transport system go hand in hand."
K, F, low-floor, double-decker and bi-articulated models are part of Scania's extensive portfolio of chasis for city, intercity and highway buses – all this to meet the most varied demands. But before entering production, the bus goes through a team dedicated to every feature of the vehicle, when it is still in the project stage.