Amazonian team awarded first prize at 2017 Inovathon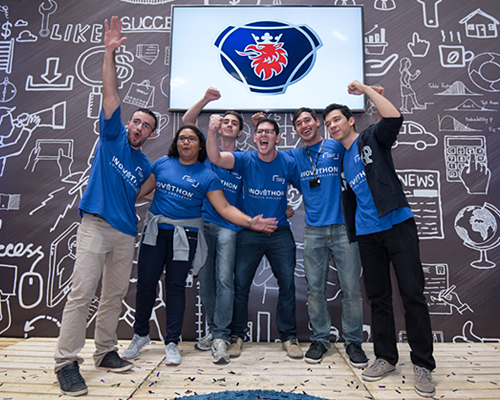 Students from all over Brazil competed, shone, and returned home with considerable new knowledge
They competed with hundreds of subscribers from all over Brazil, overcame numerous difficulties, won the regional stages, and, for 24 hours, brainstormed, discussed, and developed ideas. In the Scania marathon of innovation and logistics, the Inovathon Logistics Challenge, the team of Manaus (AM) won first place in the grand final, held on the weekends of 30/9 and 1/10.
After leaving Manaus and crossing more than 3000 km, the "Nicolas Joseph" team, with members Matheus Fontinele, Janderson de Oliveira, Lucas Bezerra, Ramel Cerveira, and Renata Silva, had the mission of representing northern Brazil in this last phase set at the Scania Logistics Centre in Vinhedo (SP).
"Innovation does not measure distances and they demonstrated that by overcoming all the challenges and obstacles, and by showing lots of guts, determination, and teamwork for those 24 hours, without resting for a minute until the end of the project. This team has a lot of potential, like the other ones, and they managed to be innovative and think outside the box," said Eduardo de Paula, responsible for Regional Material Control in Europe.
To compete for the trip to Sweden, the 25 students, accompanied by Scania logistics experts, were given the challenge of creating an innovative solution to a nationwide Scania parts distribution problem.
To officially identify each team during the marathon, the contestants were asked to choose a leading global innovation icon to name their teams. The honorees were the Brazilian architect Oscar Niemeyer (centre-west team), the English physicist Michael Faraday (south team), the French inventor Nicolas Joseph (north team), the inventor Mary Walton (east team), and the engineer Expedito Parente (northeast).
The mission of the university students was to create a solution to the problem by reducing CO2 emissions, observing the dealer and customer service time, and, finally, generating savings during the process. "Scania aims to develop sustainable transport solutions, and with Inovathon, it opens a window of knowledge and opportunities for young student to create new ideas that can shape the future of transportation," said Marcelo Gallão, vice president of logistics of Scania Latin America.
In addition to the team's effort and dedication in the creation of the best project, they attended lectures and participated in activities to help them enhance and further expand their professional knowledge in logistics and innovation. One of the guests of this edition was the sustainability expert Mattias Goldmann, of the Swedish organization Fores (Forum for Reforms, Entrepreneurship, and Sustainability), elected the most influential person of Sweden on this subject, in 2016.
The representatives of northern Brazil were awarded a trip to Sweden to visit the country's capital, Stockholm, and Scania's headquarters in the city of Södertälje, where they will accompany the entire logistics process at the plant.