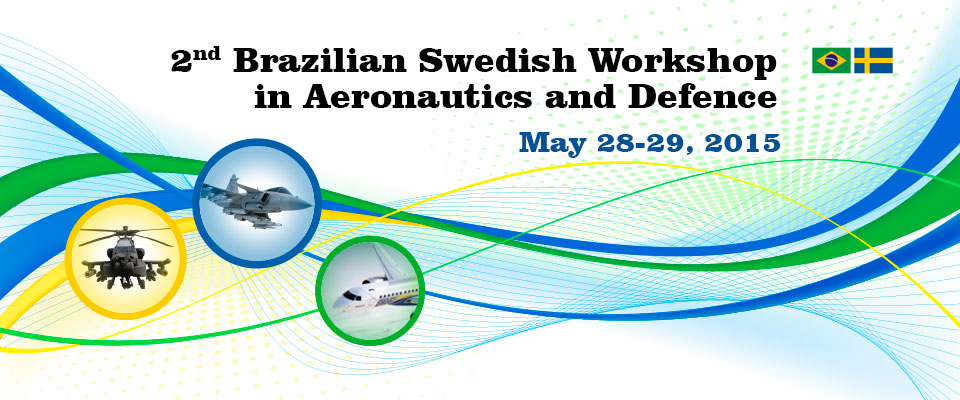 The 2nd Brazilian Swedish Workshop in Aeronautics and Defence will be held on 28th and 29th May 2015 at Aeronautics Institute of Technology (ITA), in São José dos Campos. The workshop is organized by ITA and the Swedish-Brazilian Research and Innovation Centre (CISB), with participation of Swedish and Brazilian researchers and industry.
Following the success of the first edition, this second edition aims at strengthening the collaboration links initiated in November 2014. The plenary session will bring an overview of what has been done and what is planned concerning a long-term research agenda between Swedish and Brazilian Universities. One of the purposes of this workshop is to make a survey of the Swedish-Brazilian cooperation in the areas covered by the first workshop. This activity will be performed in a set of thematic working groups that have task of mapping the on-going projects, identify how to support them, and define important challenges to be tackle by future projects. Another purpose is to start cooperation in an area that has not been covered in the first workshop: control and autonomous systems. This is an essential area for aircraft and defence industries due to the increasing relevance of unmanned vehicles for a broad range of applications. The workshop brings parallel sessions in sensor fusion & signal processing, control & system identification, and robotics & diagnosis.

Preliminary Program
DAY 1 - May 28, 2015
08.00 - 08.30
---
08.30 - 12.00
08.30 - 08.45
08.45 - 09.00
Overview of long term cooperation between Sweden and Brazil


Anderson Correia, ITA
09.00 - 09.20
Models of cooperative projects – the Swedish industry perspective


Lars Sjostrom, SAAB
09.20 - 09.40
LINK-SIC – an example of a Swedish Excellence Center


Gunnar Holmberg, LINK-SIC, SAAB
09.40 - 10.20
Inaugural lecture of Swedish Endowed Professors Chair at ITA in the Honor of Peter Wallenberg Sr.


Petter Krus, Linkoping University
10.20 - 10.40
10.40 - 10.55
Overview of CISB grants


Alessandra Holmo, CISB
10.55 - 11.20
Examples of joint projects, Project Leaders
11.20 - 11.40
Innovation system overview and opportunities for funding in Brazil


Rafael Levy, Allagi Business Consulting
11.40 - 12.00
Innovation system overview and opportunities for funding in Sweden


Mikael Román, Swedish Agency for Growth Policy Analysis
---
12:00 -13:30
---
13.30 - 17.00
1) Aerodynamics and aeroacoustics
2) Composite materials
3) Conceptual design of aircraft
4) Embedded systems and security
5) Logistics & Maintenance
6) Manufacturing systems
7) Propulsion systems
13.30 - 15.30
Presentation of CISB grants projects
15.30 - 17.00
Round table discussion and way forward
---
13.30 - 17.00
Parallel Sessions on Control and Autonomous Systems
Session 1 - Sensor fusion and signal processing I
Session 2 - Robotics and Diagnosis
13.30 - 15.30
Presentations from Swedish and Brazilian researchers
15.30 - 17.00
Technical discussion and potential collaboration
DAY 2 - May 29, 2015
08.30 - 11.30
08.30 - 09.30
Discussions (continuation) and summary report:
10.00 - 11.30
Visit to IEAv (restricted to foreigner guests)
---
08.30 - 11.30
Parallel Sessions on Control and Autonomous Systems
Session 3 - Sensor Fusion and Signal Processing II
Session 4 - Control and system identification
08.30 - 10.00
Presentations from Swedish and Brazilian researchers
10.00 - 11.30
Technical discussion and potential collaboration
---
11.30 - 13.00
---
13.00 - 14.00
Presentations from working groups
---
14.00 - 14.20
Organized by:
Sponsored by:
Hotel suggestion:
Novotel São José dos Campos Hotel - website
More information:
CISB: +55 11 3500-5096 / contact@cisb.org.br - Juliana or Fellipe
ITA: +55 12 3947-6861 / ipp@ita.br - Vanessa